Traveling to Spain soon?  Here are some things you may want to research a bit about and be aware of when entering the culture.  While Spain has many beautiful tourist attractions, travelers may also be interested in immersing themselves in to the popular culture and everyday life of Spaniards.  Read below to find out more!
Bienvenido a España!
Spain is a vibrant country with many variations of culture due to its 17 distinct regions.  Several things that one can find to be part of the popular culture in each region are; the fascination of bull fighting, the ever exciting nightlife and the importance of the Easter Holiday, which takes precedence even over Christmas.
Sport:
Bullfighting is a sport very unique and historic to Spanish culture.  To some, the practice may appear very violent or unjust, but to Spaniards, it is just a part of their society; something they may view for entertainment.  As of 2007, corridos  have stopped being shown on television and the sport has faced more opposition.  It has always been a topic of controversy since it begin sometime in the 18th century.
The bulls live a pampered life preceding their time to enter the ring; they are allotted large amounts or space to roam,  and are not fattened up unnaturally like beef cattle.  The fighting bulls are bred specifically to have certain attributes such as strength, bravery and temper to make the fight more exciting and the bulls harder to take down.
Being a Matador is a respected profession because not only are they risking their lives, but are expected to entertain a crowd and make the fight seem artistic and captivating.  The matador must appear as though he is in control and has the whole thing planned out.  The crowd will cheer wholeheartedly to support the moves the matador makes and when he strikes the bull.  Generally after the bull has been pierced and dies in the ring, it is butchered and sold at the local market or sometimes the meet is given to the poor.  It is said to have a distinct taste compared to the typical beef commercial beef.  If there is the rare case where the bull's life is spared, he will be placed back on the ranch from which he came and remain a stud the rest of his life.  The crowd also decides what type of rewards the fighter will receive and it is common to throw roses that will be collected and given to the Matadors afterwards.  Sometimes he will receive the bull's ear or tail when he has done exceptionally well.  While their is an overwhelming presence of male matadors, there have been and still are several female matadoras.  
Take a look at what a bullfight generally consists of in the video above.  It is quite helpful in explaining the steps to a bullfight and what is supposed to happen.
One event that happens only in Spain is the annual "Running of the Bulls" in Pampalona.  Spaniards and tourists alike have the chance the feel some of the excitement, pressure and fear that a matador feels when he is in the ring.  Traditional dress is a white outfit with a red scarf and each year people come from all over the world to participate.  The event draws in many spectators that also come to cheer the runners on.
Said to come from the need to transport bulls from the outskirts of the city to the fighting ring, the  ceremony takes place July 6th-14th and happens every morning at 8 am.  After 2 rockets are set off the bulls are let loose and they tear through the streets.  Streets are blocked off and fences are set up to make a clear path toward the ring, which is 875 meters away.  A group of oxen follows the bulls to corral stragglers and push the bulls onward.  As with being a matador most of the runners are male and the city planners do their best to screen runners.  Today you must be 18 years of age, and not under the influence of drugs and alcohol.  Participants are encouraged to be sure they are physically fit enough for the sprint and any dangerous activity is strictly forbidden.  While the event can be extremely dangerous, measures are taken to try to ensure the safety of runners as much as possible.  Every year there are injuries and  it is not uncommon for several deaths to take place.However this does not dampen the spirits of Spaniards and adventurous travelers.  In no other country could one see a spectacle like this.
Social Scene:
Spain is also known for its vibrant night life, which some consider second to none.  As Madrid there is the saying 'Madrid never sleeps', many clubs and bars won't open until around midnight and it is not uncommon for people to stay out till the next morning, sometimes 6 am.  This is the common social life of young people in the country; one of Spain's principles is to take time to enjoy life and the people around you ; dancing and having a good time is one way they live out this value.
One of the most popular and well known party places is the island of Ibiza just off the southern coast of Spain in the Mediterranean.   Some of their most popular night clubs include;  Amnesia, Pacha; which is Ibiza's oldest club, and Ocean Beach Ibiza.  Not exclusive to Spaniards, many people travel here to party and let loose for a weekend, especially during the summer.  It is also a hot spot for celebrity parties and vacations.  Below are just a couple examples of the large scale of the Spain's nightclubs, parties and events happening every night.  Ibiza is known for its wild themes and each club has their own distinct environment.  No matter where you go on the island you can be guaranteed to have an unforgettable night.
The most popular music in Spain right now has strong electronic beats with some Spanish/Latin influence and layered with many background noises;  typically what would be expected if the song was being remixed by a DJ.     The category could be classified as 'Electro Latino'. It is what would be considered 'dance' or house music', not quite techno, but with similar tones.  Another similar style is 'Latino Pop',  commonly heard by J. Lo or Enrique Igesias, one of Spain's most most well-known musical artists.There are also some English artists mixed among the top favorites such as Adele and Justin Bieber.  Chances are, you will hear a version of one or more of the following songs at a nightclub.  In Spain, it is also typical to be in a club that is hosted by an international DJ, this is reflected in their top 100 list.
http://www.shazam.com/charts/top-100/spain    (follow the link to listen to clips of the current top 100 songs)
For those whole like to go out, but don't favor the loud, 'party never stops' lifestyle, there are a number of other places of entertainment one can find.  Bar crawling is one of Spain's favorite past times and it cannot be complete without tapas.  These are little appetizers served at each bar that are laid out and meant to compliment a customer's drink.   The practice is suspected to come from using a small plate of bread or olives to cover one's drink to keep anything from falling in because the translation of tapa is 'lid'.  While some bars still uphold the old tradition of offering free tapas, many places will charge a small price for their snack.  After visiting three or four bars, one can almost have a full meal.  Customers usually pair their tapas with a white wine, a light beer or sherry, so they can have the whole flavor of the tapas rather than their drink.   Popular tapas that can be found are :
-Patatas Bravas: fried potatoes often served with a dipping sauce (varies depending on the region)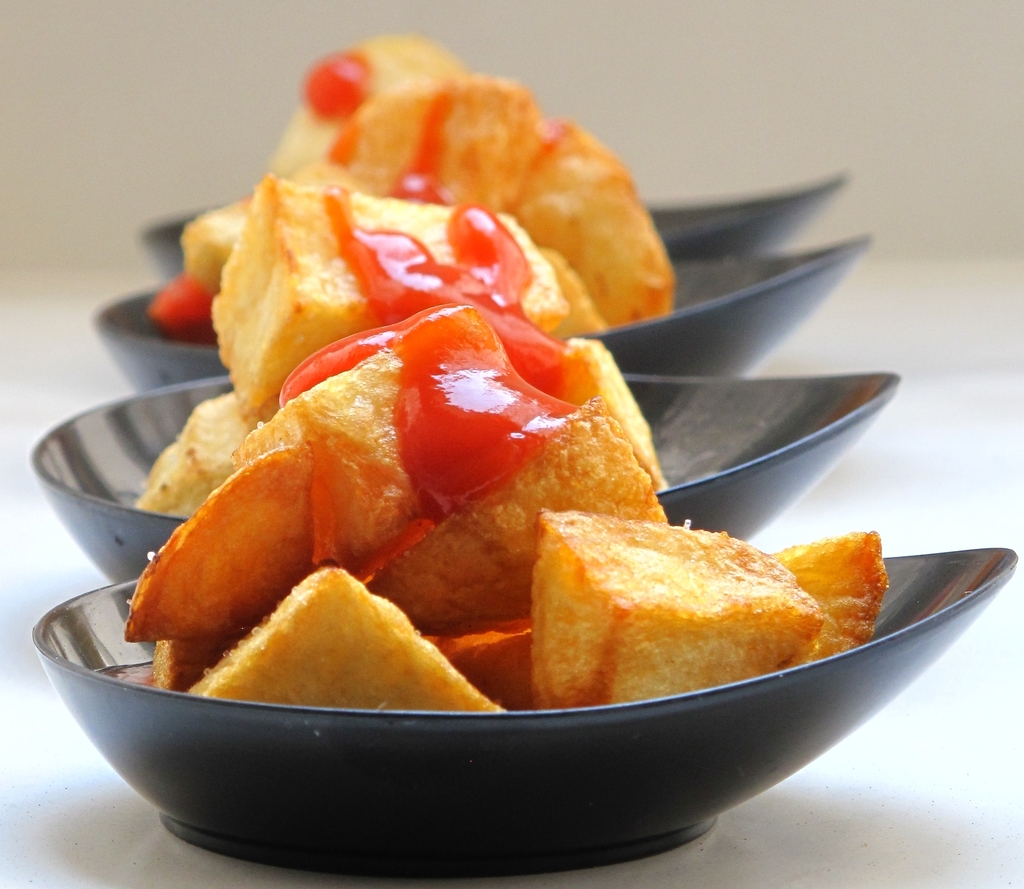 –Croquetas: fried bread filled with meat and vegetables      
–Gambos al ajillo: prawns cooked in olive oil, garlic and chili.
–Banderillas: skewers with different assortments of olives and pickles
For those who want a quite night,  there is always some sort of street performance that can be viewed, particularly in Madrid or Barcelona.  Spain also has many concert venues that house local and international performers, one can see anything from flamenco to indie music.  There are also different theater and film festivals going on year round.  If you happen to stay out until the early hours of morning, join the local Spaniards in watching the sun rise as you grab a cup of hot chocolate and and some warm churros.  And if nothing else,  walking along the streets watching these acts or just admiring the beauty and architecture of Spain's cities can make one fall in love with country.
Holidays: Easter
Spain's biggest holiday celebration of the year is the week leading up to Easter, called Semana Santa.  The festivities start on the Thursday before, called Holy Thursday, and this is when the whole country essentially 'shuts down' for four days.  One or two local shops may stay open for last minute or key items, but even then the hours will not be very long.  The only shops you can be guaranteed to find open during this weekend are bars. Time is also taken off from work and school to allow citizens to participate in the holiday happenings.
The events include a huge parade that includes pinatas, floats and figures that depict different Saints, Mary and other religious symbols.  Different religious organizations build or restore massive floats unique to their association.  The floats are carried by members of the organization and doing so is considered an honor.   The parade follows a route throughout the main city streets, and the exact order and nature of celebrating vary depending on the different regions and cities.  However, no matter where you are, the parade is typically led by a huge cross or cruz de guia, and two main sights: the figure of Jesus and the figure of Mary.  There are also singing and dancing performances, and much of the music is in a very sorrowful tone.  Sometimes the signers are in the procession and plan their song with the musicians and other times someone observing the processions will break in to song. called a saeta.  Each tells a part of the story of Jesus' death, burial and resurrection.  The grandest celebrations happen in the region of Andalusia, particullary in Sevilla and they draw in thousands of people.
One Traveler had this to say about Semana Santa : "The Holy Spirit was present in Sevilla during that week. The passion the Sevillians had for their faith and the mourning, as well as the celebrations of this week, were awesome to see" (Semana Santa)
As can be seen in the video below, the procession involve huge amounts of people of all ages and the celebrations last all day.  Much time and effort is put into the overall production and celebration of Holy Week.
An incredible sight to be sure you do not miss is extravagant 'rugs', called alfombras, being made by laying down brightly colored sawdust, sand or flowers to create intricate patterns.  This custom was started in Guatemala, but was brought to Spain during the Spanish conquest.  Locals start out as early as 7 in the morning and work all day to put these designs together.
These celebrations also signify the end of lent; a practice where Catholics do not eat meat on Fridays for forty days preceding Easter Sunday.   Spain has a history of being a strong Catholic country and still today has a large Catholic population.  The influences of this are seen in much of the architecture and the number of churches.  This is the reason more importance is placed on celebrating Easter than there is on Christmas.
"Bull Beef- Most Ecological?" The Guardian. N.p., n.d. Web. 1 Dec. 2015.
"Bullfighting | Spectacle." Encyclopedia Britannica Online. Encyclopedia Britannica, n.d. Web. 02 Dec. 2015.
"Ibiza Spotlight Clubbing | Ibiza Spotlight." Ibiza Spotlight. N.p., n.d. Web. 04 Dec. 2015.


"Information About the Running of the Bulls in Spain." Travel Tips. USA Today, n.d. Web. 04 Dec. 2015.


"Processions in Semana Santa | Festivals in Andalucia | Andalucia.com." Processions in Semana Santa | Festivals in Andalucia | Andalucia.com. N.p., n.d. Web. 02 Dec. 2015.

"Semana Santa." Semana Santa. N.p., n.d. Web. 04 Dec. 2015.